2018
Deluxe Editions 1 to 5, with box (Sold out)
Special Editions 7 - 11, with unique wooden boxes (available) $1700 (see photos and descriptions below)
Editions 12 - 15 book without box 8.5" x 9.5" x 1"
$1200
This ode to the ocean is written by the artist and contains linocuts of various shells found at various locales around the world. The text is hand-set in Cheltenham Italic 18pt. printed on Somerset paper. The cover is Twin Rocker handmade paper.
The deluxe version (sold out) consists of the book
To The Ocean
, housed in a wooden box made by New Mexico-based woodworker Art Peterson, that contains curiosities - a sea urchin shell cast in silver by Philadelphia jeweler Hratch Babikian, a hand-blown glass button crafted by the Italian glassblower Andrea Giubelli in his Murano studio, several plastic fishing float fragments found in County Mayo, Ireland, and shells from the Atlantic ocean, Italy and Japan. The items come protected in shibori cotton-lined fabric bags sewn by the artist. Included in the box is a book describing the contents.
Special edition of unique wooden boxes to house the collection of shells along with the book "To the Ocean" 
number 7 - number 11 in the edition of 15 books
Included within each box is a small book which lists the box contents. "wooden box, Wilfredo Rodriguez, Philadelphia; dog whelk, slipper snail, beach glass, periwinkle, Maine; moon snail, scallop, horseshoe crab tail, New Jersey; fishing float fragment, limpet, Ireland;  not named - origami boat by Austin.
$1,700
_________________________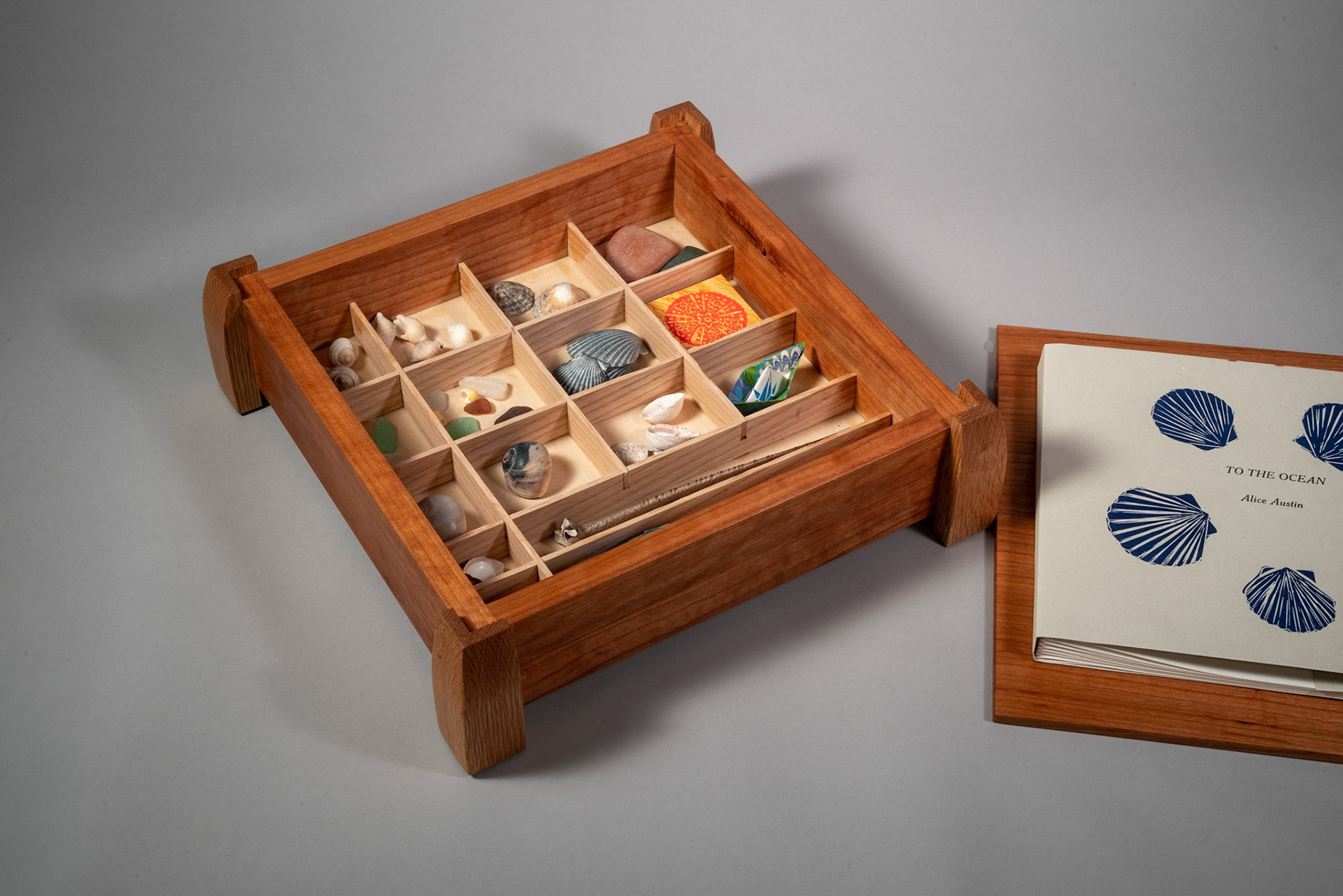 ________________________________
______________________________

___________________________